Come to Historic Springfield for…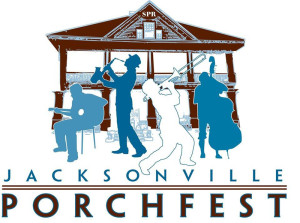 What is PorchFest?
Jacksonville is now home to one of the most popular events sweeping the country. The third annual Jacksonivlle PorchFest, a music festival held on front porches, will take place November 5, 2016, in Jacksonville's oldest neighborhood, Historic Springfield.
The family-friendly free event features musicians from a wide variety of genres. Organizers select 20 performers to play on porches throughout the historic district. Attendees stroll from porch to porch and "camp out" on front lawns as they enjoy live, local talent. Last year's event featured an evening performance by New Orleans funk band FlowTribe, presented by SMG and the Ritz Theatre.
Food trucks and artisan booths open at noon, and musical performances run from 1 to 9. Maps of porches and performers are available at the corner of Third and Silver Streets in Klutho Park. Parking is available along Main Street and near Klutho Park.
"PorchFest isn't simply a music festival. It's a celebration of front-porch living and all that the lifestyle embodies." ~ Elizabeth Augustus, Friend of Historic Springfield
"PorchFest was magical. It was day for people from all over Jacksonville to celebrate the joy of life while listening to local musicians on the beautiful front porches of Historic Springfield."~ Michelle Guglielmo Gilliam, Springfield resident
"In their heyday, front porches were where the community gathered—they were the epicenter of neighborhood life. People would sit on the front porch instead of the backyard because they could see friends coming and going and say hello to their neighbors. The bonds of community were formed through that interaction." ~ Christina Parrish, event organizer, Springfield resident & business owner
2015 Jacksonville PorchFest Performers
FlowTribe
Grandpa's Cough Medicine
Back from the Brink
Douglas Anderson Guitar Ensemble
Hadley Parrish-Cotton & Bobby Goin
Jacksonville Old Time Jam
You Rascal You
El Conjunto Tropical
Once a Week
Brenna Erickson



The WillowWacks
Complicated Animals
Groove Coalition
Firewater Tent Revival
Caint Never Could
Dirt Floor Krackers
Mike Shackelford and Steve Shanholtzer
CJ Fluharty
The Greens
The Vinylmen
Alaina Colding
Thank you to our gracious sponsors for making PorchFest 2015 a reality:
UF Health

Candy Apple Cafe
Iberia Bank
TerraWise Homes
Bourre Construction Group
A Cut Above Hair Salon
Tim Hope
Reputation Ink
Renee Parenteau Photography
Sargent Auto Upholstery
Alvarez and Wallace
TransForm Jax
Michael Alancourt
Jamie and Will Toraason
Johannes Ulrich and Hailing Zhong
Carolyn Brass and Jeffrey Shaleev
Nicole Brockhouse and Todd Hollinghead


The RItz Theatre and Museum
Springfield Preservation & Revitalization Council
Uptown Kitchen and Bar
The Brooklyn Riverside
Ken Paulk, CPA
Trautmann & Company, LLC
Reggie Fountain, Watson Realty
Pat Nodurft, Coldwell Banker Vanguard Realty
Seaman Realty and Management
Lane Manis, Watson Realty Corp.
Uptown Lifestyle Concierge and Excursions & Azucena Corner Deli
JWB Dream Homes
Jack Adams and Abel Harding
Karla and Alex Stremitzer
Doug and Doris Vanderlaan
Jeff Fountain
John Crispens
Scott Davis


Community First Credit Union

Sweet Pete's
Third and Main Realty
Locke Roofing Company
Florida Pump Service
Amanda Searle, Magnolia Properties
Tracy Arthur
Baker Klein Engineering
Sargent Cycle Products

Mickey and Beverly Miller
David and Laura Byres
Christina Parrish & Cliff Stone
Max, Crissie & Charlotte Cudd
Genora Crain-Orth and Jimmy Orth
Mark Ray


Funkadelic Food Truck
Fusion Food Truck
Chunky Tomato
Japapeño Truck
Eddis and Sons
The Conch Shell
Sweet Pete's Candy
My Grandmother's Pie
Wrap it Up
Delish Kebabs

Super Food Truck
Celeb's On the Move
Bold City Pops
Tasty Dog
Son of a Butcher
Happi Li
Serentea
Vagabond Flea
Southern Roots Apothecary
K Handcrafted
About SPAR
Springfield Preservation and Revitalization (SPAR). , a 501c3 non-profit organization dedicated since 1974 to improving the quality of life in the Springfield historic district, will act as the sponsoring non-profit for the festival. Proceeds will benefit arts programming in the neighborhood.
Contact PorchFest
The PorchFest organizers would love to hear from you!
Email us now!